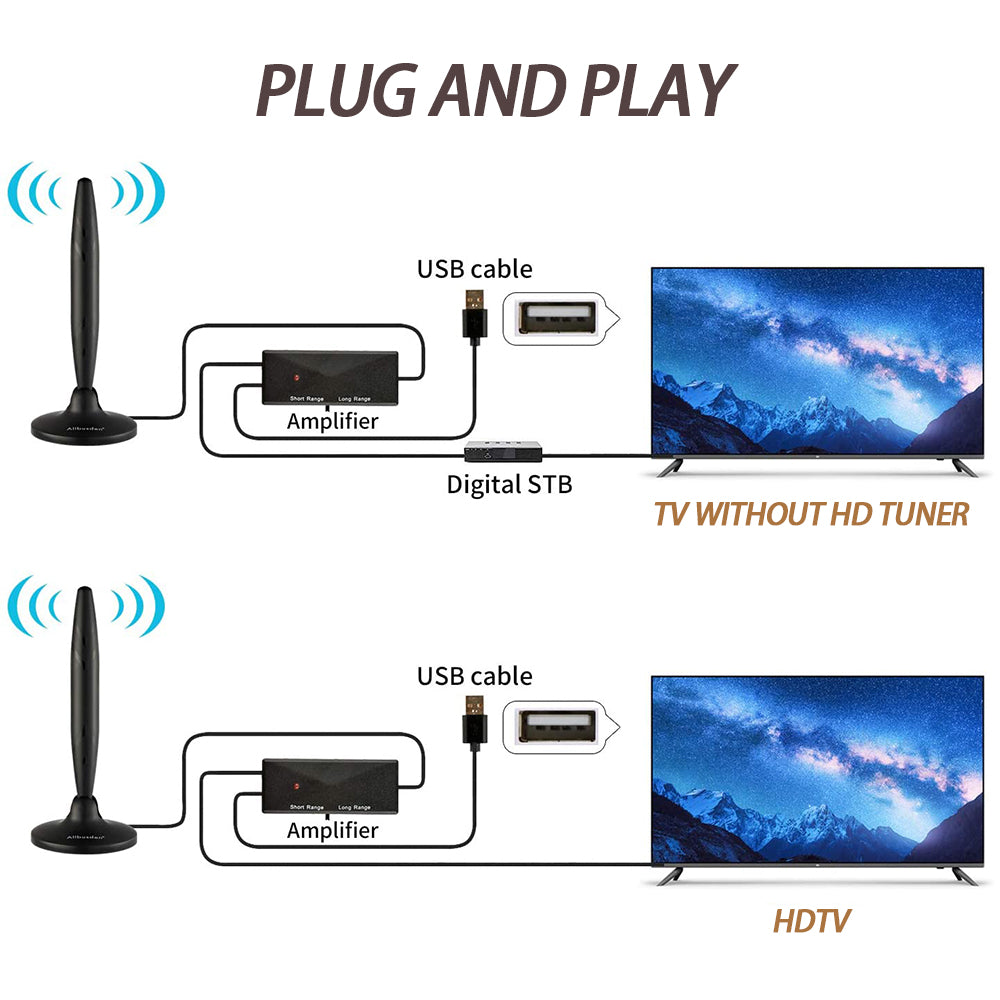 HD antenna can receive FULL HD Channels like ABC, CBS, NBC, PBC, Fox.
Scan for available channels. Find the optimal placement for the longe range indoor digital tv antenna.
Connect the TV antenna's coax cable into the back of your digital TV. The new technology filters out cellular
and FM signals resulting in a clearer picture, low noise.
The booster can enhance signals weakened by the obstructions between your
TV antenna and local broadcast towers. Our smart TV antenna adopt upgraded TV Amplifier with built-in Smart
IC Chip Next generation & Crystal Clear Filter Technology to picks up signals within 120 mile range.
Amplified indoor hdtv antenna have 0.2 inches thick cable for increased durability, with loss of signal decreased by 50
percent for a full 120-mile reception radius from your home.Compact Thin and Lightweight Best for portable TVs and USB DTV tuners;
you can easily carry it in your laptop bag or TV case without worrying about extra weight or space.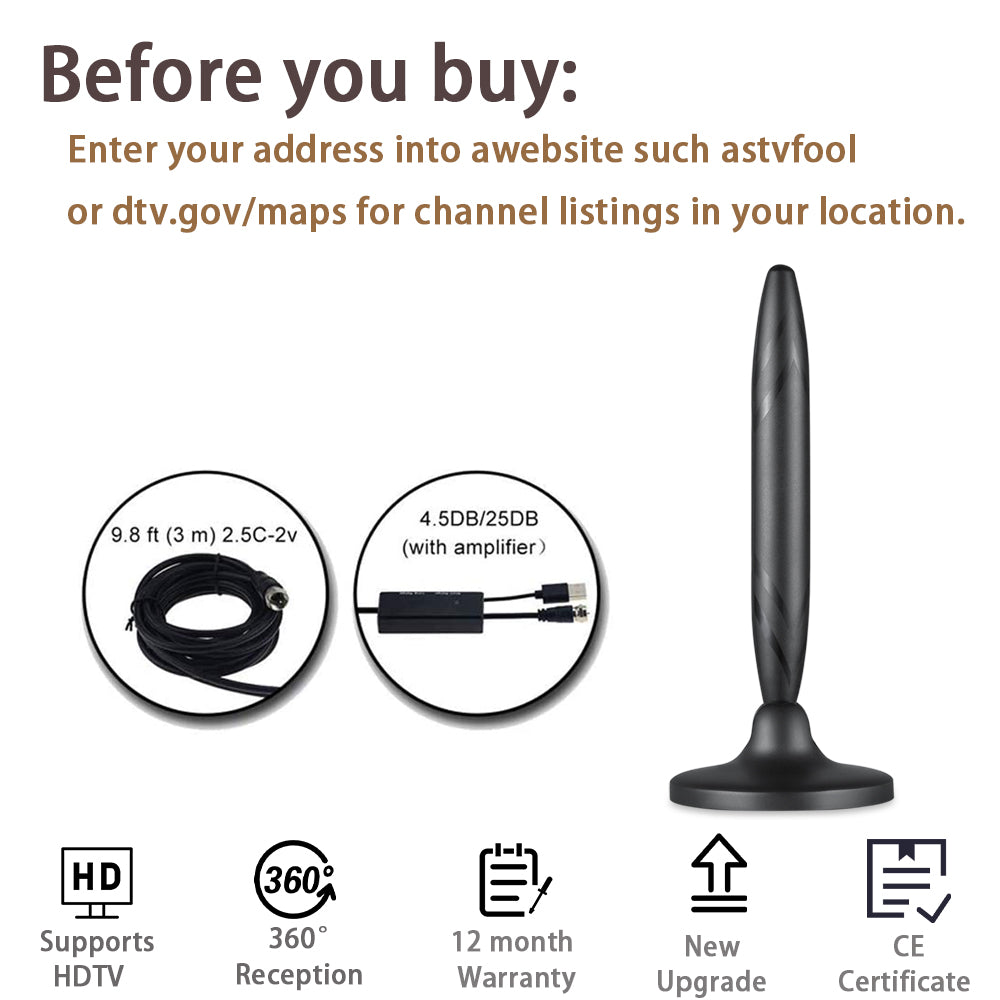 Built-in Smart IC Chip and Crystal Clear Filter Technology, this smart TV antenna is able to picks up signals within 120 miles range effortlessly.
It filters out cellular and FM signals resulting in clearer picture, low noise and access to more free broadcast TV signals
with enhanced gain, range and frequency performance
With high sensitivity strong signal amplifier, can not only transmit HD signal, but also filter out high frequency interference signal,
ensuring that the signal transmission is stable. If the signal is not satisfying or only a few channels are available,
try connecting or removing the amplifier.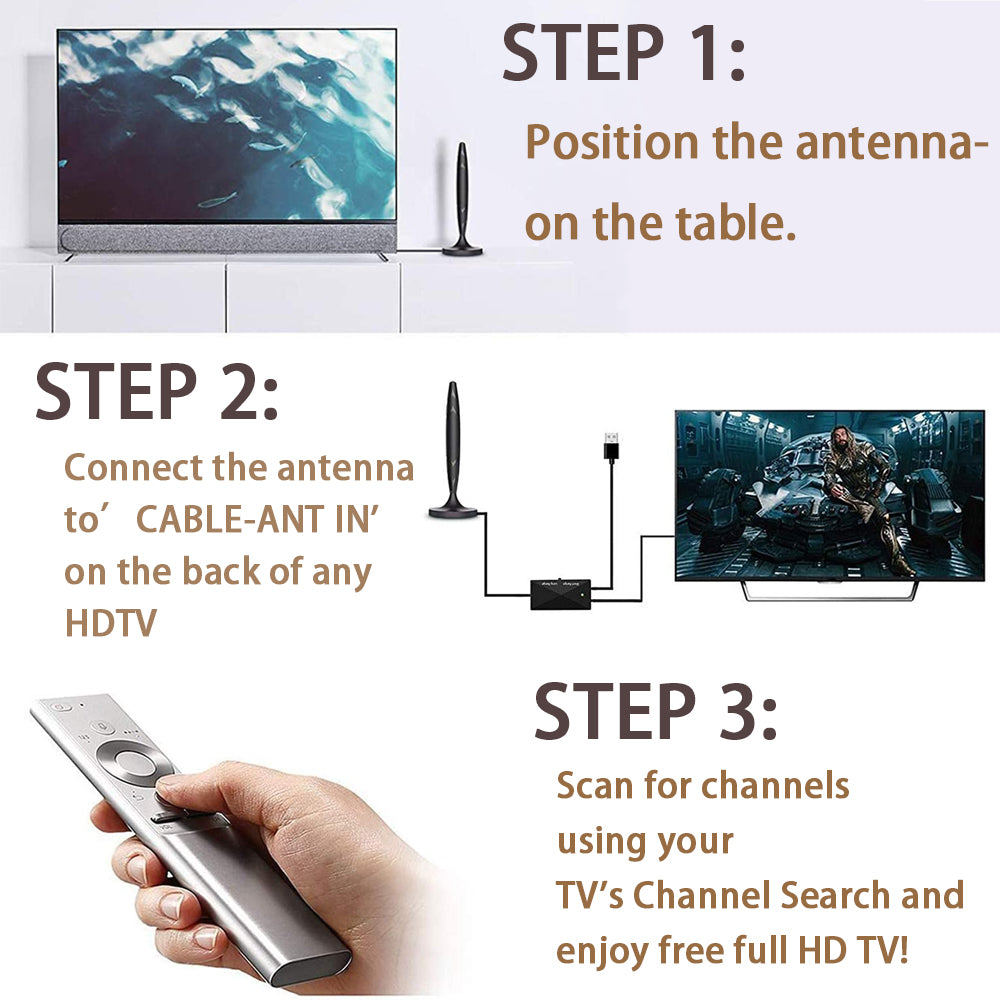 Installs in less than 3 minutes! Just plug into your TV's coaxial cable port, set your TV to antenna mode and scan for channels!
1. Position the antenna - on the table, under desk or near the window (strongly recommended)
2. Connect the antenna to 'CABLE-ANT IN' on the back of any HDTV
3. Scan for channels using your TV's 'Channel Search'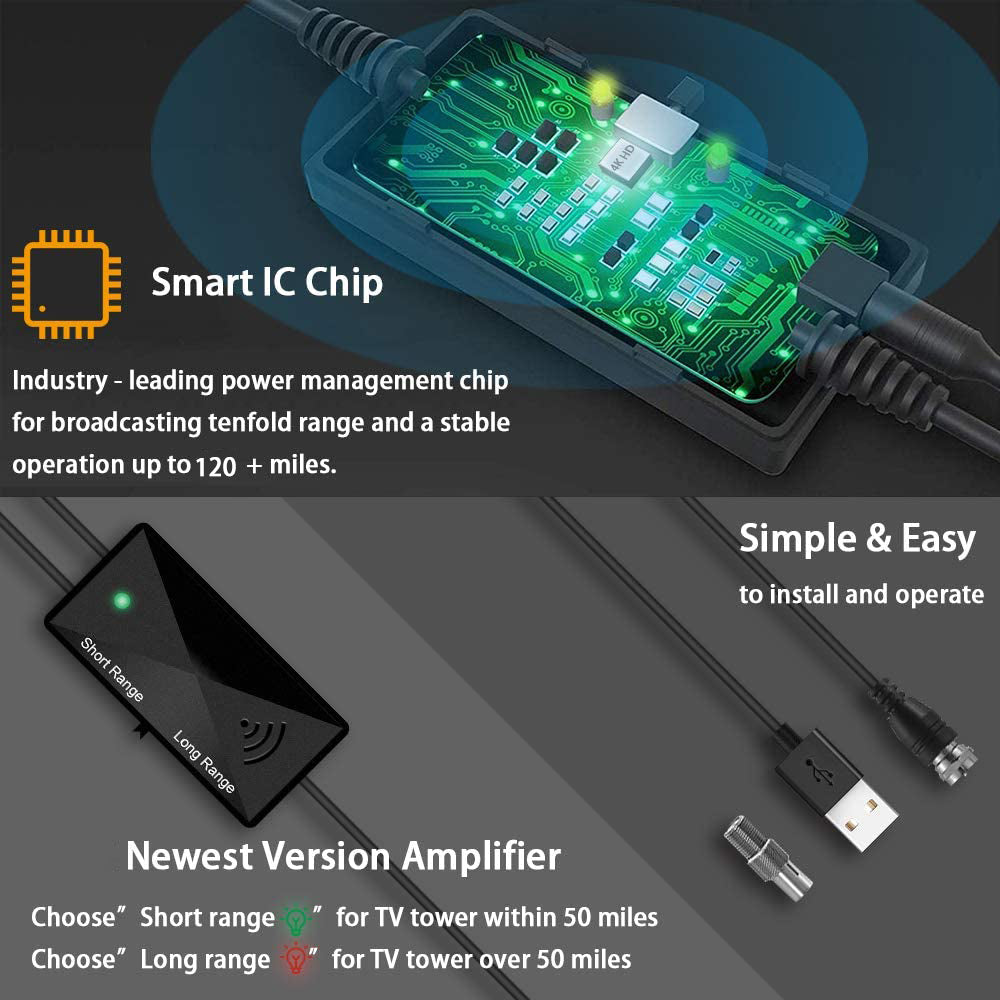 AVOID OBSTACLES
The actual receivable range may highly dependents on your distance and location. Areas with large obstructions such as valleys, mountains, etc,
will reduce effective range. Always re-scan channels after moving the hdtv antenna, the result may be better.
You can Remove the Detachable antenna amplifier if your house is within 20 miles range from the tower.
We do NOT Recommend to use this amplifier or booster if your house is very close to the broadcast tower and the signal is already very strong.