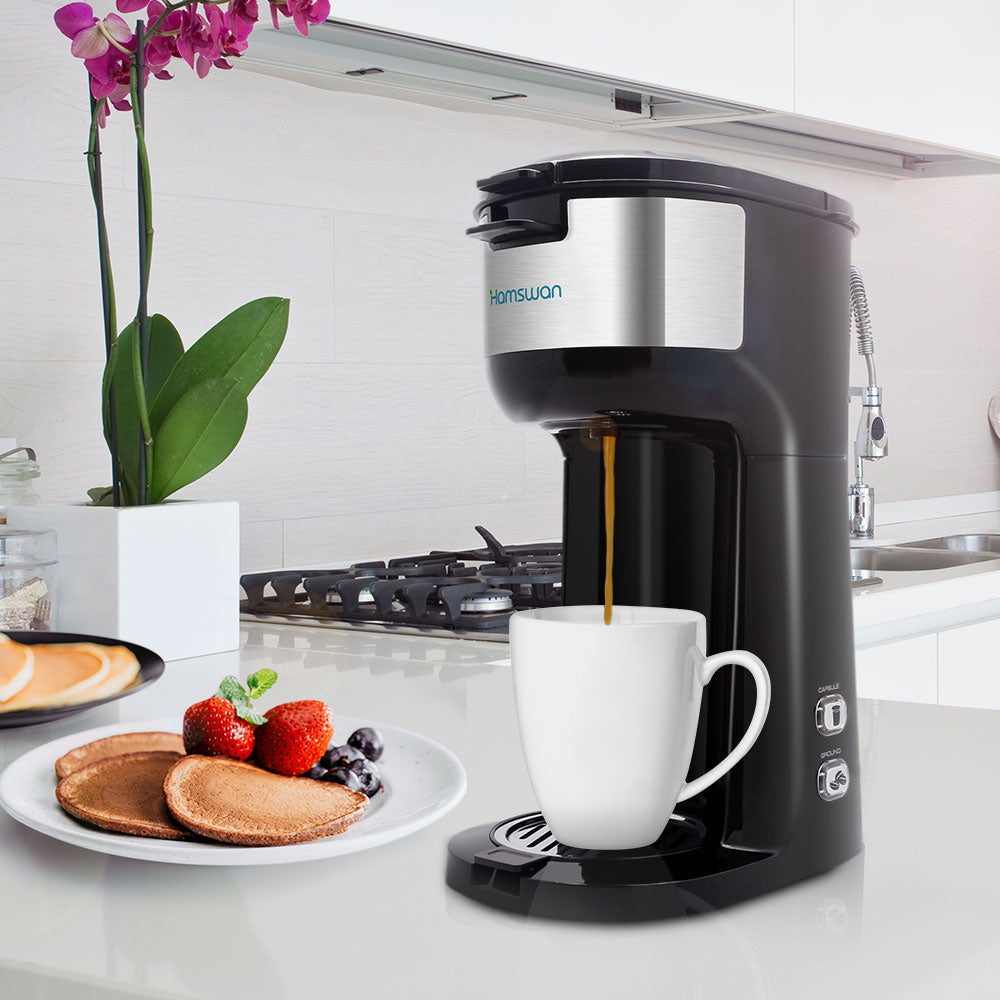 This single serve coffee maker will give you a cup of pure taste hot coffee in 3 minutes jump start your day.
Have your cup ready to drink in only 3 minutes! The water adjustment function allows you to control how much
coffee you want to brew to save expensive grounds and control the coffee strength.
Innovatively designed to be compact and durable, yet extremely effective, this coffee maker is much smaller than others.
You will be able to fit it in tight places on countertops, office tables, etc.
This single serve coffee machine displays measurements from 6 oz to 14 oz in the reservoir,
allowing you to control the amount of coffee brewed as needed to save valuable ground. In addition, programmable auto off
and the automatic cleaning let coffee easier to make.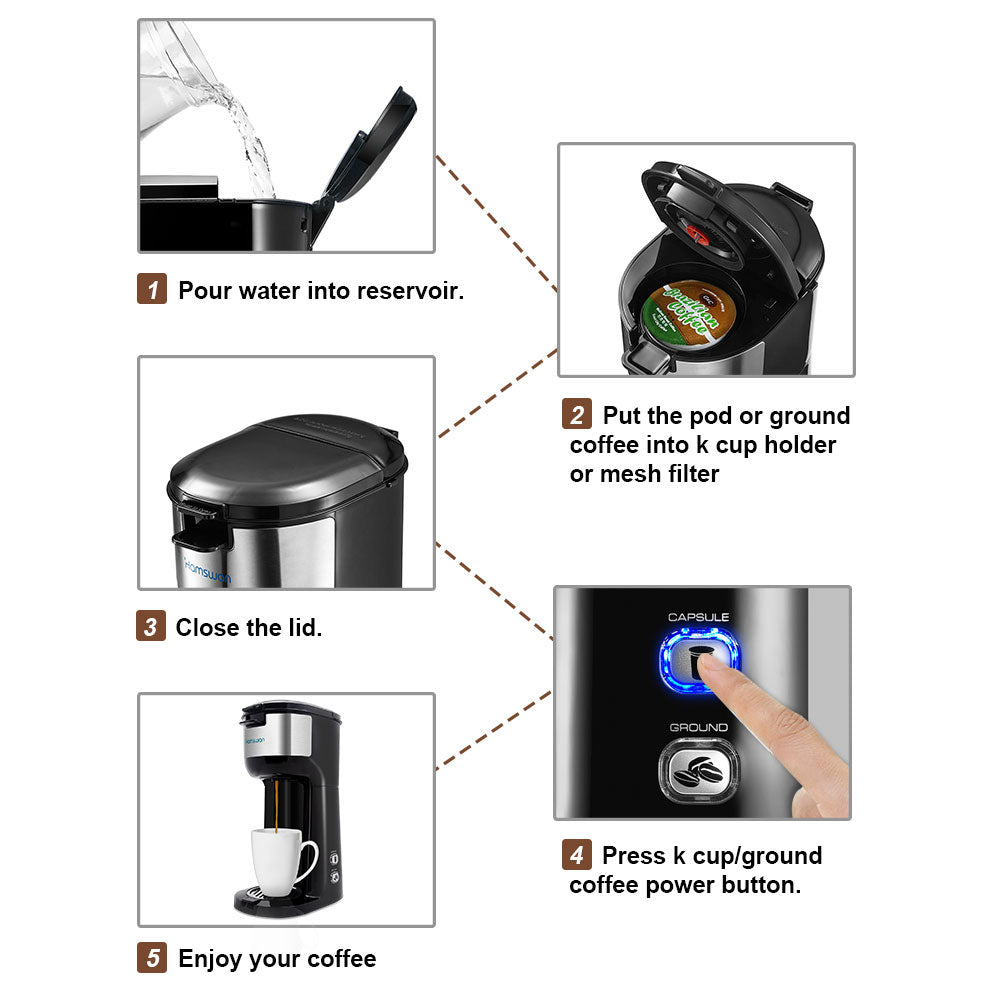 Simply press 2 buttons together and let the coffee machine clean itself.
Forget to shut off your machine? Don't worry, the machine will automatically turn off after brewing a cup of coffee.
Whether you want to brew a K-Cup or make a cup of ground coffee
Two button options allow you to easily choose two ways of brewing coffee.

2-Way Coffee Maker – Suitable for k cup pods & ground coffee.
Faster & Hotter – Brew 14oz coffee in about 3 mins. And the temperature of the coffee has reached 170℉.
Strength Control - The measurement marked from 6oz to 12oz in the water reservoir let you are able to
choose water's volume you want to control strength.
Easy to Use & Clean – Only two buttons to operate. Its self-clean function and removable tray makes cleaning more easily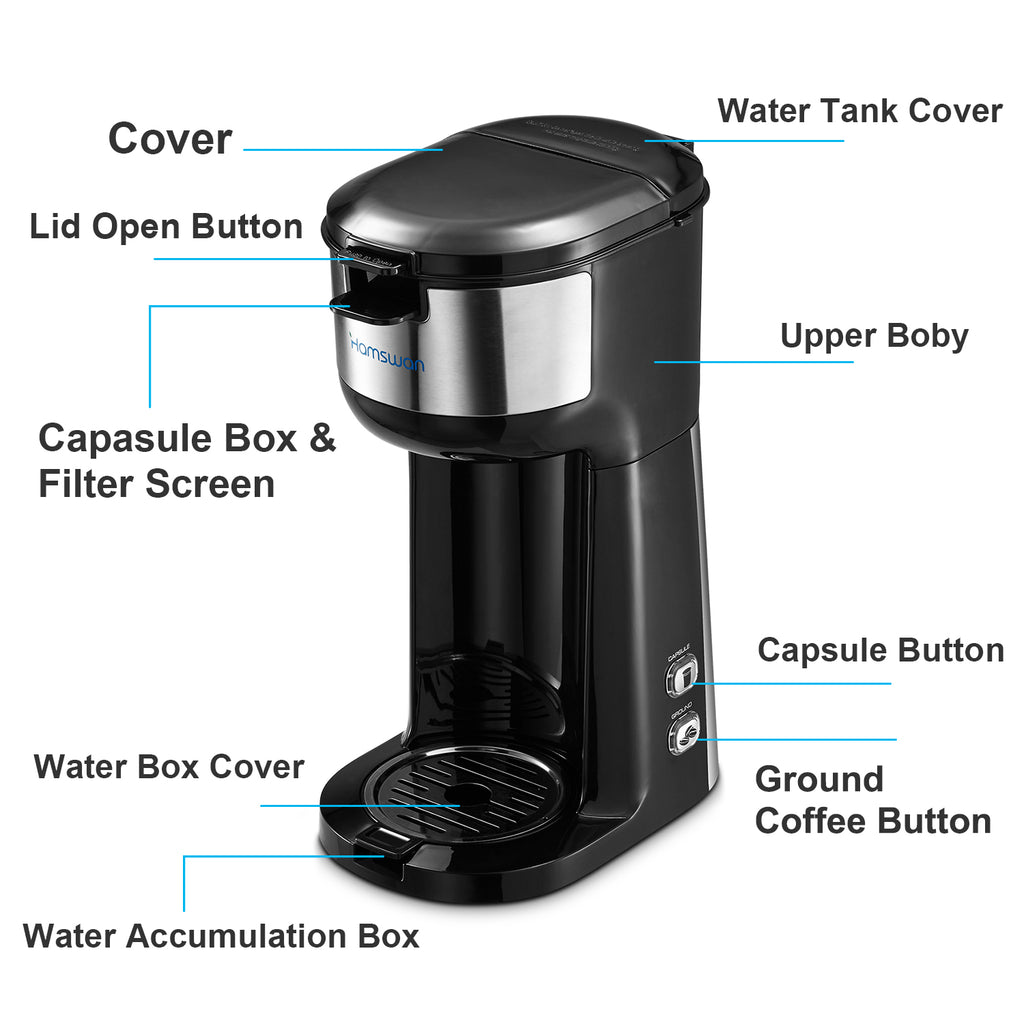 How to Brew Coffee?
Pour water into reservoir.
Put the pod or ground coffee into k cup holder or mesh filter.
Close the lid.
Press k cup or ground coffee power button
Enjoy your coffee.
Press two buttons at the same time for activing self clean function.

Specification:
Voltage: 120V,60Hz
Power: 1000W
Size:11.6"H * 5.4"W * 7.3"D
Net Weight: 2.53 lbs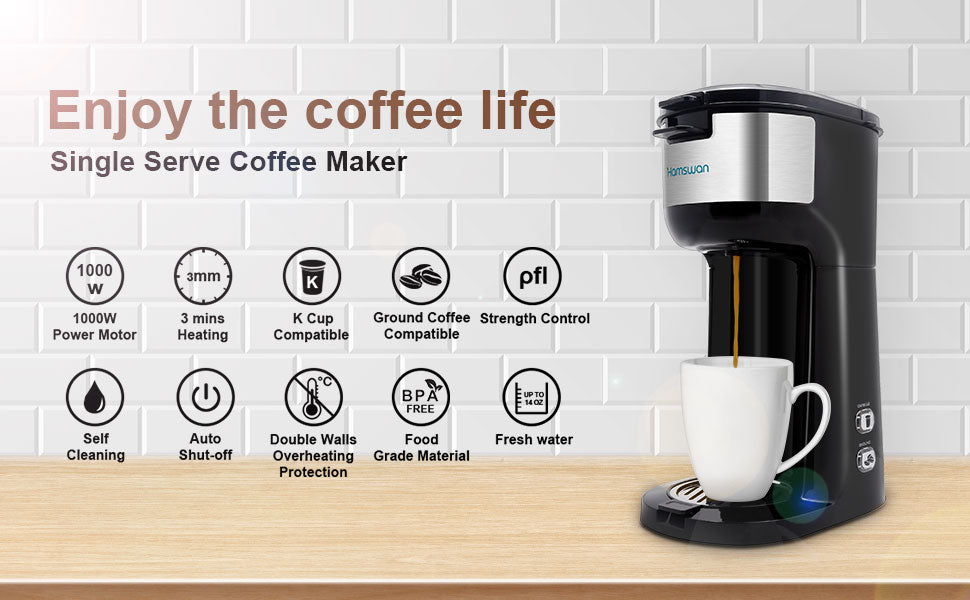 Box comes with:
1 * Single Serve Coffee Maker
1 * Removable Drip
1 * K-Cup Holder
1 * Mesh Filter
1 * Instruction Manual
Tips:
Please brew water to clean water tank for first use every day, it can be more effective to extract the essence from coffee.
For best-tasting coffee,we recommend using bottled or filtered water.
The water should not exceed maximum level, 14oz.
It's suggested to clean machine every 3 months or after brewing more than 200 cups of coffee. You can add vinegar to remove scale.