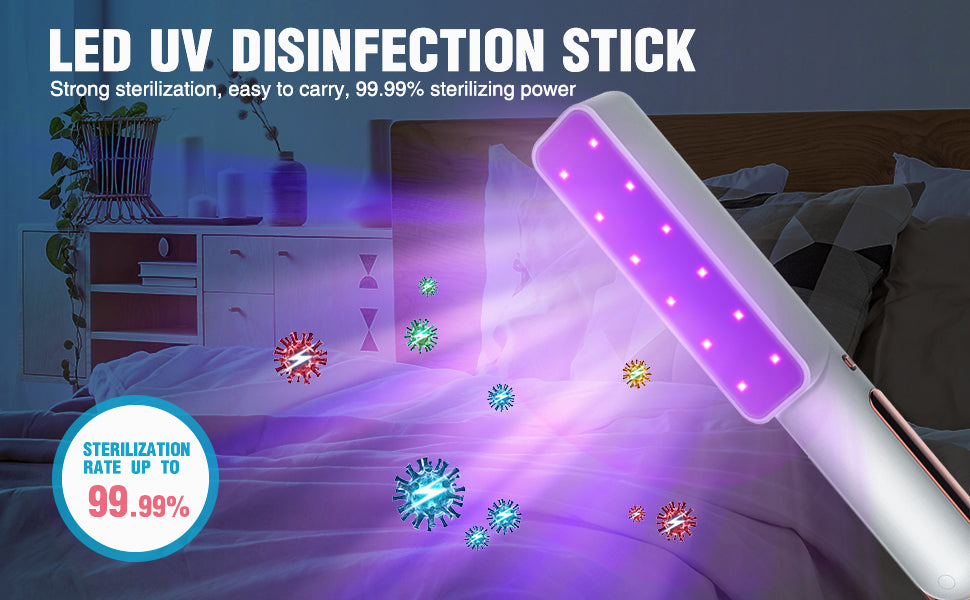 The ultraviolet light destroys the molecular structure of DNA or RNA in harmful substances with a light wavelength of 240-280nm.
Especially at the wavelength of 260nm, UV has the strongest effect.EPA Est. No.96924-CHN-1
Turn on the UV light, simply sweep the UV light wand across the surface or stuff you desire to clean, it makes the environment safe
and clean in 10 seconds without damaging any surface, makes non-toxic, no residue, no odor, no secondary pollution.
(Avoid direct exposure to the human body, pets or plant for long term)
Our UV-C light wand is an exquisite wand that with nice touch feel, adopted the selected ABS material and
advanced led light beads to ensure obvious clean effect and durable LED UV Lamp lifespan more than 10,000+ hours,
proven works for effective cleaning, and safety in use.
UV disinfection lamp
Portable, essential for home travel, easy to use
Wide irradiation range, high efficiency, no odor of disinfectant, safe and no pollution
Various uses, toilet disinfection, baby underwear disinfection, can also be used in disinfecting pet supplies

Warm Tips
keep the Rechargable Travel Wand Ultraviolet Disinfection Lamp away from children for beam toward eyes.
keep the sterilizer clean,do not use around water and fire