Product Description
6.97USD for Fingertip Pulse Oximeter and free shipping Use Code NAGEH0AH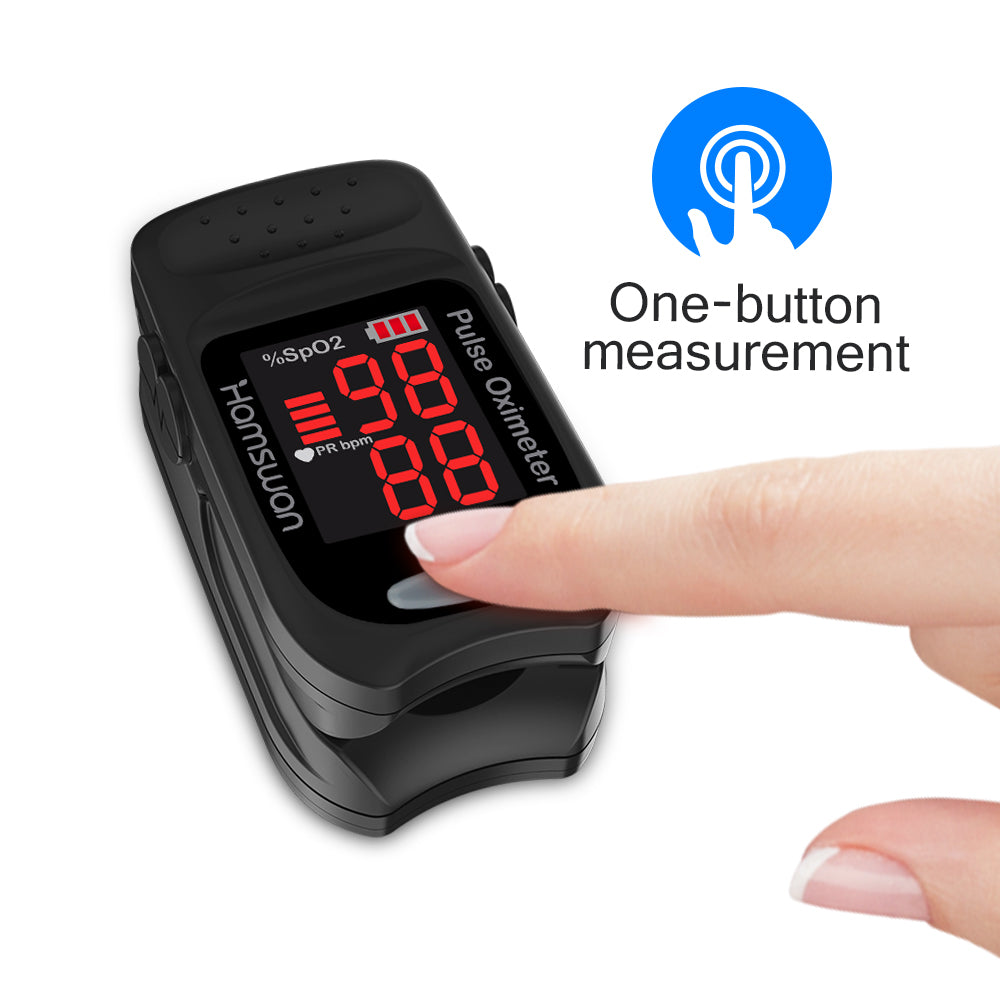 Hamswan oximeter can accurately determine your SpO2 (blood oxygen saturation levels),
pulse rate and pulse strength in 5 seconds and large LED and backlight display make this pulse oximeter fingertip to read.

This oximeter finger with pulse designed with One button control which makes measurement more convenient and easier.
The finger pulse oximeter will shut down automatically without operation in 8 seconds. ABS material,
the fingertip clip use silica gel material which are soft and easy to apply.
Oxygen saturation monitor are very light and small size, low power consumption and convenient in carrying.
Also it comes with a detachable lanyard which can measure your oxygen saturation anywhere.

Suitable for mountain climbers, skiers, bikers, aviators or anyone interested in measuring their SpO2 and pulse rate while on the move.
You should only use the pulse ox before or after your exercise. Also,
you must remain stationary while the pulse oximeter measure your pulse rate and SpO2 levels.
Product Features:
1.This oxygen meter is small in volumes, light in weight and easy to carry.
2. One button operation and easy to use.
3.Large LED display and low in power consumption.
4.accurate and reliable.
5.Automatically turning into sleep mode within 8seconds after there is no signal.
Technical Specification:
▴Parameters : SpO2, PR
▴SPO2 Measure Range : 0% -99%
▴Resolution : ±1%
▴Accuracy : 70%-99%:±2, 0%-69%:unspecified
▴Pulse Rate Range : 25-2540BPM
▴Resolution : ±1bpm
▴Accuracy : ±3bpm
▴Power Requirements: 2×1.5V AAA battery
▴Dimension: 32 ×35 ×31mm
▴Weight: 60g
Packaging Includes:
①1x Hamswan Pulse Oximeter
②1x Lanyard
③1x Instruction Manual
Packaging siz: 118mm(L)x78mm(W)x40mm(H)
2 x AAA Battery Not Including

Note:
This device is for sports and aviation use only.
I was able to compare this to the one at my Dr's office today. I checked myself after the nurse popped back out the room and was the exact same reading as the nurse had gotten with their professional machine. This is useful information in monitoring your health during the pandemic. This device also monitors my heart rate and that number always matches my apple watch. The read out on the screen is large enough and bright enough too clearly.