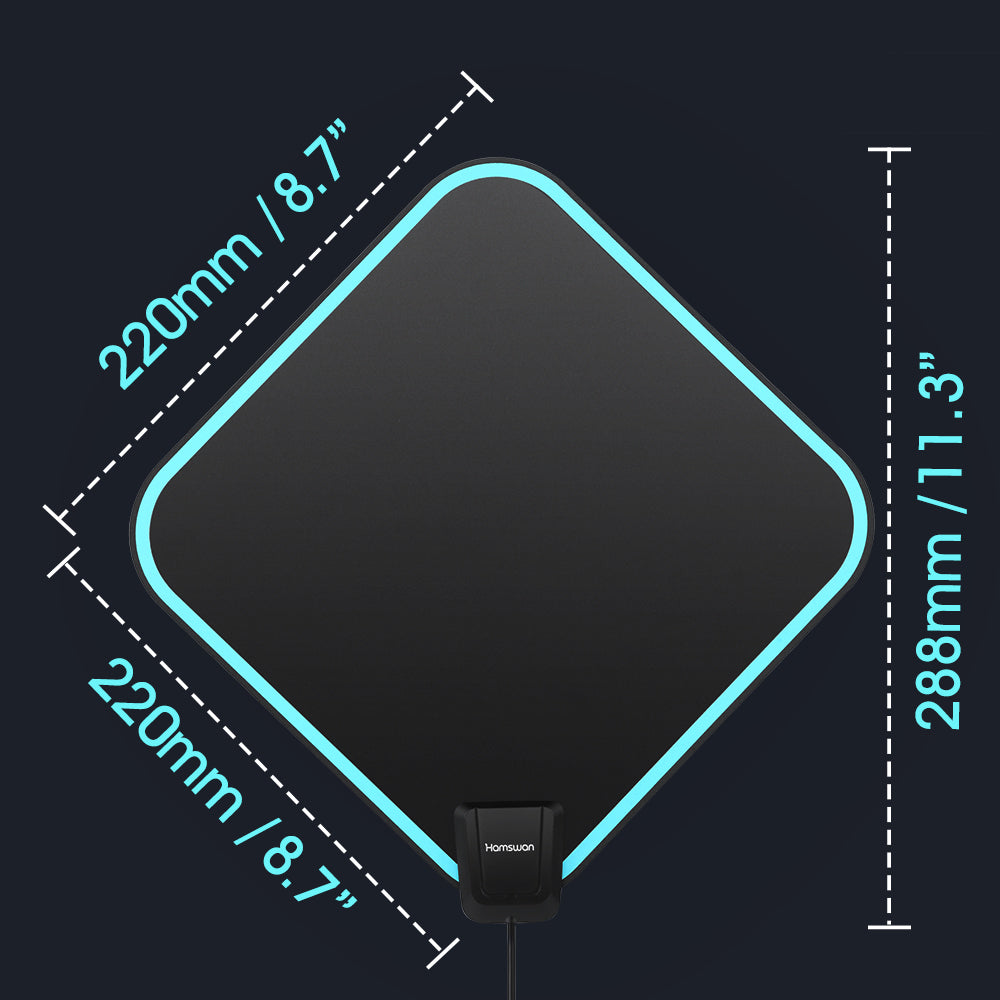 200 mile range to access Over-the-Air TV channels without a cable or satellite subscription.
Easy to place high on a window or wall or flat on a table or behind the TV for great reception to watch c
rystal clear HD shows! Fast setup in 3 easy steps - Unwrap, Plug in, and Scan channels.

Black color. Ultra thin but high performance the Antenna do. It will not take too much of your house's space.
Rather easy and speedy to install.

13ft long cable makes it easier for you to place the antenna in your house to get the best reception, especially for customers
whose televisions are not near windows. Besides, please visit "antennaweb.org" or "antennapoint.com" check how many broadcast towers
surrounding you within 200miles, it receives free High Definition TV broadcast signals (such as ABC, CBS, NBC, Fox, The CW, and PBS).

You can hide the antenna behind the TV, lay it flat on the table or stick it high on a window. Make your home life simple and convenient,
and imagine HD quality intelligent boost technology to pull in the signal from all directions.

Depending on your location, the HDTV antenna can receive include NBC, FOX, CBS, ABC, PBS, THE CW, QUBO, TELEMUNDO,
UNIVISION, RTV, THIS TV, ION, ME TV, the weather channels and SO MUCH MORE.

HD Signal Amplifier
With high sensitivity signal amplifier, can not only transmit HD signal, but also filter out high frequency interference signal,
ensuring that the signal transmission is stable. If the signal is not satisfying or only a few channels are available,
try connecting or removing the amplifier.

Installs in less than 3 minutes! Just plug into your TV's coaxial cable port, set your TV to antenna mode and scan for channels!

The Amplifier built in with newest HD technology chip, you can enjoy stunning HD streaming at up to 60 fps and HDR enabling more vivid,
lifelike colors and exceptional clarity. Feel scenes come to life with three-dimensional Dolby Atmos audio when connected to
compatible home audio systems.

AVOID OBSTACLES
The actual receivable range may highly dependents on your distance and location. Areas with large obstructions such as valleys,
mountains, etc, will reduce effective range. Always re-scan channels after moving the hdtv antenna, the result may be better.

You can Remove the Detachable antenna amplifier if your house is within 20 miles range from the tower. We do NOT Recommend to
use this amplifier or booster if your house is very close to the broadcast tower and the signal is already very strong.